02 Aug 1985 00:00 - Gavin Evans
Front-page apology ends news boycott
The 10-week boycott of the Daily Dispatch has ended after a front-page apology by the newspaper's management.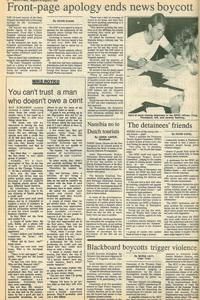 The 10-week boycott of the Daily Dispatch has ended after a front-page apology by the newspaper's management.
The boycott was called by the Border region of the United Democratic Front after a Daily Dispatch editorial called Nelson Mandela and other jailed political leaders "criminals".
In the statement last week, the Dispatch acknowledged that its editorial policy was seen in some quarters as being pro-apartheid and that "certain references could have caused offence". They re-stated their commitment to being an "anti-apartheid newspaper.
"The Daily Dispatch recommits itself to a policy of fair-minded, objective reporting and to being a forum for various schools of thought," it said. The UDF in turn agreed to drop its demand for the resignation of the Dispatch editor, George Farr and called off the boycott.
According to sources within the Dispatch, the boycott caused a loss of well over R40 000 and management had no option but to settle with the UDF. The UDF border publicity officer, Andrew Hendricks, said it led to a 30 percent drop in sales and was spreading at the time it was called off.
He said there had been widespread dissatisfaction with the Daily Dispatch from the black community ever since George Farr became editor after Donald Woods was banned. "There was a lack of coverage of events in our areas, and when they did cover anything concerning us it was always one-sided. "They ignored anything that came from us or our affiliates, but printed everything they could get which attacked us", he said.
He added the statement about Mandela being a criminal was "the final straw. "After that we decided things had gone too far and that action was needed," he said. The UDF called on people not to buy the newspaper and not to have any dealings with Dispatch reporters.
Hendricks said the majority of residents in East London's townships of Mdantsane and Duncan Village supported the boycott. He stressed it was not simply aimed at improving coverage of the UDF. "Plenty of non-UDF people supported it because their coverage of people's events was so bad. We merely initiated action around what people felt " he said.
After several meetings between UDF ' leaders and the Dispatch managing director, Terry Bryceland, the agreement was reached. Hendricks said since then coverage of UDF and other community news had improved.
On Wednesday the Dispatch initiated an extensive pamphleteering blitz informing residents that the boycott had been called off.