08 Jul 1988 00:00 - Vusi Gunene
Now it's a Mandela concert in Jo'burg
Mandela will celebrate his birthday on July 18 behind bars despite repeated calls for his release from the international community.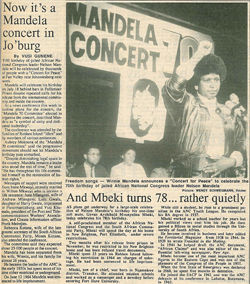 The birthday of jailed African National Congress leader Nelson Mandela will be celebrated by thousands of people with a "Concert for Peace" at Fun Valley near Johannesburg next week.
Mandela will celebrate his birthday on July 18 behind bars in Pollsmoor Prison despite repeated calls for his release from the international community and inside the country.
At a news conference this week to outline plans for the concert, the "Mandela 70 Committee" elected to organise the concert, described Mandela as "a symbol of unity and dedicated leadership". The conference was attended by the families of Robben Island "lifers" and, by members of various embassies.
Aubrey Mokoena of the "Mandela 70 committee" said the progressive movement should not let Mandela's birthday pass unmarked. "Despite diminishing legal space in the country, Mandela remains a leader who stood the test of time," he said. "He has throughout his life committed himself to the restoration of human rights."
Messages of support were received from Irene Mkwayi, recently married to Wilton Mkwayi who is serving a life sentence; June Mlangeni wife of Andrew Mlangeni; Lulu Gwala, daughter of Harry Gwala, imprisoned in Pietermaritzburg; and Vusi Khumalo, president of the Post and Telecommunications Workers' Association, and Cosatu information officer Frank Meintjies.
Rebecca Kotane, wife of the late general secretary of the South African Communist Party, Moses Kotane, also attended the conference. The committee said they expected about 25 000 people at the concert.
Mandela has been separated from his wife, Winnie, and his family for almost 26 years. He became the leader of the ANC in the early 1950s but spent most of his time either restricted or underground. On June 12 1964 Mandela was sentenced to life imprisonment.
And Mbeki turns 78 – rather quietly
As plans get underway for a large-scale celebration of Nelson Mandela's birthday his one-time cellmate, Govan Archibald Mvunyelina Mbeki, today celebrates his 78th birthday. A self-proclaimed member of the African National Congress and the South African Communist Party, Mbeki will spend the day at his home in New Brighton, Port Elizabeth under severe restrictions.
Two months after his release from prison in November, he was restricted to his New Brighton home and has been refused travel documents. Mbeki spent 23 years on Robben Island following his conviction in 1964 on charges of sabotage. He had been sentenced to life imprisonment.
Mbeki, son of a chief, was born in Nqamakwe district, Transkei. He attended mission schools and worked as a messenger and a newsboy before entering Fort Hare University. While still a student, he rose to a prominent position in the ANC Youth League.
He completed his BA degree in 1937. Mbeki worked as a school teacher for years but his political views cost him his job. He then gained a BEcon in social studies through the University of South Africa.
He became involved in business and later edited the Territorial Magazine from 1938 to 1944. In 1939 he wrote Transkei in the Making. In 1944 he helped draft the ANC document, "African Claims" and was also editor of the influential left-wing newspaper New Age.
Mbeki became one of the most important ANC figures in the Eastern Cape and was one of the planners of the Congress of the People in 1955.
When the first State of Emergency was declared in 1960, he spent five months in detention. He joined the SACP in 1961 and was the ANC delegate at its conference in Lobatse, Botswana, in 1962.