12 Feb 1990 06:00 - Weekly Mail Reporters
A day of triumph -- and tragedy
Mandela's speech can be viewed as an opening thrust, a consolidating speech which was carefully prepared and delivered strictly according to the text.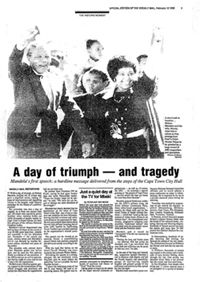 It was a day of triumph, as Nelson Mandela strolled out of prison and gave a dignified salute, ending 27 years of imprisonment and signalling victory in the longest, most famous campaign for the release of a political prisoner.
But yesterday was also a day of tragedy, as at least one person died and 100 others were injured by police birdshot when violence broke out while thousands of people waited on Cape Town's Grand Parade for their first glimpse of the African National Congress leader.
Mandela's arrival degenerated into half-an-hour of chaos as the crowd of over 50 000 grew impatient, volatile and unwieldy in the hot afternoon sun. Elements of the crowd ran amok, looting shops and Mandela's arrival was delayed by clashes between police, marshals and parts of the crowd.
The situation only calmed down when Mandela spoke just before 8pm, and he used his first address firmly to endorse all the positions of the ANC and put an end to speculation that he might in some way be out of step with the organisation.
He delivered a hardline speech, giving support to the continuation of the armed struggle and sanctions and saying the conditions for negotiations had not yet been met.
He praised State President FW de Klerk, saying he had gone further than any other Nationalist leader. 'There are further steps (to be taken)," he said. "We have not yet begun to discuss the basic demands of the struggle."
Mandela had clearly decided that his appearance on the steps of Cape Town's City Hall was a time to reassure and mobilise his own followers, leaving detailed overtures and initiatives aimed at his opponents for later.
He also pre-empted speculation about his own role perhaps usurping that of other ANC leaders by reaffirming Oliver Tambo's pre-eminent position as the organisation's elected president.
The speech can be viewed as an opening thrust; a consolidating speech which was carefully prepared and delivered strictly according to the text. With the light fast fading on the Grand Parade, Mandela was introduced by his comrade Walter Sisulu.
Delivering his speech in a strong, charged, but not emotional voice, Mandela said he stood before the gathering "not as a prophet, but as a humble servant — "I place the remaining years of my life in your hands," he said to resounding cheers.
His speech was repeatedly interrupted by delighted outbursts of applause and cheers of 'Viva!" from the crowd.
Taking pains to single out for praise all the major internal resistance organisations -- as well as, of course the ANC -- he extended a special greeting to "the people of Cape Town ... the city which has been my home for more than three decades".
Mandela praised Umkhonto we Sizwe, the ANC's military wing, the South African Communist Party, those white-based organisations -- notably the Black Sash and the National Union of South African Students -- which had "acted as the conscience of white South Africa in the darkest days", the international community, progressive religious communities, "traditional leaders" who had sided with the democratic movement and the Frontline states.
Mandela said it would be "incomplete" if he did not mention his wife Winnie. "During the long and lonely years ... my beloved wife has given me strength; and I am convinced that your pain and suffering was far greater than my own," he said.
At the end of the long and historic day, supporters heeded Mandela's call to disperse with dignity and left the Parade happily and peacefully: groups of toyi-toyi-ing youths laughed and greeted groups of riot policemen and soldiers as they spread out into the night.
Mandela later cancelled a press conference; National Release Committee officials said he would address a press conference on today in Johannesburg. He is expected to fly up on a private chartered plane during the morning.
Yesterday was marked by outpourings of joy around the country: in central Johannesburg, Hillbrow, Soweto, Cape Town, Port Elizabeth, East London, Katlehong, Eldorado Park, Vosloorus, Thokoza ...
In Soweto, several thousand people formed a joyous human chain near the house of the released leader, ululating, dancing and chanting slogans. Hundreds of people poured out onto the streets and more than 35 000 packed into Jabulani Stadium for a tumultuous rally.
In Johannesburg, hundreds of people, shouting and waving, ran through the streets of the city centre. The celebrations focused on Hillbrow but flowed over into the city and other areas. In Hillbrow, thousands of people toyi-toyied in the streets and a cavalcade of cars, hooters blaring, drove through the city. One person was knocked down when a car plowed into the crowd, and then sped away.
In Port Elizabeth, four people were killed and 17 others injured when a car ploughed into a group of celebrators.
Just a quiet day at the TV for Mbeki
While the men who had shared the leadership of the African National Congress and life on Robben Island with Nelson Mandela gathered at Victor Verster prison to welcome him, one man was forced to watch it all on television.
A disappointed Govan Mbeki sat with friends in his Port Elizabeth flat and waited, with millions of others, for Mandela to appear on the screen.
"My health is giving me some problems at the moment and my doctor said I should not travel to Cape Town," Mbeki said.
He said that while he was sad that he could not be present, he was delighted that Mandela had been freed.
Mbeki agreed that the ANC may have been taken by surprise by the fast pace of recent developments.
"We knew he would released soon, but obviously we did not know the exact date," he said.
Mbeki said he was on standby to fly to Johannesburg if the senior ANC leadership should be called together for talks.
"The National Reception Committee has not yet told me the exact plan but I am waiting," he said. -- Peter Auf Der Heyde