16 Feb 1990 06:00 - Staff Reporter
Land of sweet childhood and dreams
Mandela's birthplace -- It all began in the little village of Qunu in the Transkei...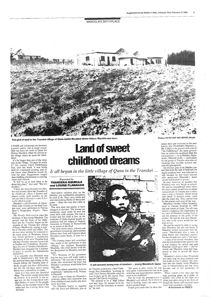 A bare and windswept site between a gravel quarry and a rough soccer field has been set aside in Qunu for Nelson Mandela when he returns to
the village where he spent his childhood.
It's far bigger than any of the other sites in the village 'because he needs it", his cousin Chief Dalibhunga Joyi, said last week. It was being used for communal grazing, and no knew what Mandela would do with the land.
Suggestions ranged from building a homestead to erecting clinics and schools. 'It will be up to him what to do about this place," Joyi said. 'But it's his place".
"I have the most pleasant recollection and dreamy about the Transkei of my childhood, where I hunted and played sticks, stole mealies on the cob and where I learnt to court. It is a world which is gone. "
Mandela recollections of Qunu, 25km from Umtata on the East London road, were published in Fatima Meer's biography Higher than Hope.
The Weekly Mail tried to trace the footsteps or the young Mandela.
The journey into the heart of his childhood and the Transkei began on the veranda of the Umtata law offices of Prince Madikizela, among a number of Thembu chiefs and elders.
The old men were waiting for transport to the royal place at Bumbane where they would perform a ceremonial welcoming of the new Thembu king who had recently returned from exile in Zambia and Zimbabwe: Buyelekhaya the son of Sabatha Dalindyebo.
Mandela had struggled for a number of years to restore the Dalindyelo succession. It is possible that Mandela may walk to Madikizela's law firm one day and find these men sitting on this veranda telling old Thembu tales of chiefs, people and their difficulties. Just like the old days, when young Nelson was a schoolboy in Qunu.
Qunu is a very poor but beautiful village. The colour orange dominates the scenery. It is present in the orange soil, on the orange-dyed traditional clothes of some of the people of Qunu, on the printed faces of the women and the evening skies over their heads.
Half-naked children play on the hillsides, just as Mandela remembers he used to do. They carry sticks and tend diminishing flocks of sheep and goats -- there are very few cattle to be seen. The area does not appear to have changed in decades.
The houses are rondavels, most made of mud but some built with cement. The soil is eroded and the yield is low, so the residents of Qunu depend largely on pensions and the wages of migrant labourers in Umtata or Butterworth or on mines on the Reef. The area needs dams, schools and
agricultural equipment, and residents believe their lives will improve when Mandela comes home, at least for a visit.
"His coming home will contribute very much to the upliftment of this village," his nephew Nompilisi Mandela, who lives across from the site designated for Mandela, said last week. "It's because of his greatness that his stay here will really make a difference."
He was one of many residents who mentioned the hope that Mandela's presence would help them find jobs. "We can inherit something from his experience," added his wife, Nosinala Mandela.
Still living in Qunu are Mandela's relatives, elders who remember him from childhood and youths who have never seen him. The Mandela family is, together with the Joyis and Mtiraras, part of the Thembu great house.
Chief Dalibhunga Joyi remembers "growing up with Chief Nelson Mandela when he was brought up by the regent, Paramount Chief David Jongilanga. "He seemed to be a 'Hail fellow well met' type. He seemed to be the type to lead the immature to maturity," he said. "He used to play sticks; he was very good.
I also remember him as an articulate and magnanimous speaker, even in childhood." Not far from the greengrocer's is Mandela's old school. He is likely to find it looking much the same, but newly-painted white.
People greet each other by their clan names here and everyone in the area knows who Rholihlahla Mandela is. He is likely to be greeted with cries of "Ah, Dalibhunga", the name given to him on achieving manhood after the circumcision - or as Madiba, Dalindyebo, Mthemb'omhle - particularly by the group of Thembu men who sit awaiting their monthly pension outside the greengrocer.
An old man, part of the Madiba clan and thin from the lack of food and too much sorghum beer, was reluctant to talk because he had heard anyone who mentioned Mandela's name would find himself in prison.
In time, however, he recalled that Mandela was very bright at school. He said he remembered times when the entire school would have to attend competitions in Umtata and in those days a trip to Umtata, which would taken about 15 minutes today, could take the entire day. They carried food for the journey and sang all the way.
Mandela's mother Fanny Mandela died in Umtata hospital in 1968 and was buried at Qunu. The old man tried to emphasise the importance in his view of Mandela coming back to pay his respect to the grave of his mother. He said he was sure Mandela's visit to the grave would lay her soul to rest.
He said he would be able to recognise Mandela but did not know if Mandela would recognise him because "Rholihlahla was a man of great books and important papers but the old man was only a "red man" -- a man of no formal education.
But after he had pondered the question for a few minutes he smiled and said Mandela would greet him -- and he would ask Mandela what had happened to him in prison all these years.
Mandela's sister-in-law Nomonde Joyi stays near the large national road that leads to East London. She married into the family while Mandela was in Johannesburg and has since become one of the mainstays of Qunu. When visited a few days ago she was grinding grain on a stone.
A toddler who cried at the sight of a white journalist clung to her skirt, although the family had received many visits from journalists recently. She said that children with the surname Mandela had problems at school and in getting work in the surrounding towns, which may be why a matric certificate of one of Nomonde's sons hangs proudly on the wall in the lounge.
She told the Weekly Mail that she remembered fondly the days when Rholihlahla would return from Johannesburg. The children would spot the car at a distance and then run with it until it parked near the house.
She said the excitement was caused by the fact that everyone knew he or she would receive a gift from Mandela. Then they would have to settle down to a lecture that he delivered each time he returned about the importance of sending the children to school. He would demand to see their school reports and ask persistantly about their academic progress, Nomonde said.
She takes us to show us the overgrown, derelict plot of land on which Mandela was born. She says when he returns there will be large celebrations at Mqhekezweni. Cows and goats will be slaughtered and people will come from all over Thembuland to welcome him.
Proceeding deeper into Thembuland, crossing the river and the railway station, on
Mqhekezweni, or the Great Place, was once the centre of the Thembu world, when Jongintaba, who was regent, established it as the capital of Thembuland. It is here that the young earnest Mandela came to continue with his elementary studies soon after his father had died.
It is the members of his clan who took this bright young boy to grow up under the chiefs -- to be schooled both in the ways of the clan and in the ways of Christian education.
"Our families are far larger than those of whites," he wrote for Higher Than Hope, "and it is always a pleasure to be fully accepted throughout a village, district or even several districts accompanied by your clan, and be a beloved household member, where you can call at any time ... and freely take part in the discussion of problems, where you can even be given livestock and land to build on free of charge.
"It was a member of the clan who educated me from elementary education to Fort Hare and never expected any refund".
Here Mandela grew up eating out of the same plate as his good friend and cousin, Justice Zwelidumile Mtirara, heir to the chieftainship of Mqhekezweni. When he returns he will find the rondavel -- facing the valley and a hill opposite -- that he used to share with Justice still standing in the yard.
Here at Mqbekezweni, Mandela was groomed by the royal family of the Transkei and inducted into its affairs. It is a fitting place for such training, for facing the gate of the yard of the Great Place is the school Mandela once attended.
On the walls of the dining room are pictures of all the great paramount chiefs and their right-hand wives. These are framed in shining copper with flower-like branches. Among them is a picture of a young Nelson Mandela in a suit and tie.
Facing the mountain lies the grave of the Paramount Chief Jongintaba Dalindyebo. Then next to him lies his wife, Justice's mother, and Justice Zwelidumile himself.
Mandela went to school with Justice from the time he arrived at Mqhekezweni. It was with Justice that he must have discussed his first political ideas as a boy, schooled from a young age in the history and politics of the region. He was able to sit at the feet of men who had lived through the times that many South Africans only read about in books.
It is here at Mqhekezweni that Nelson used to be visited by young Kaiser and George Matanzima, who used to be brought over from the neighbouring village. Their father was a headman under Dalindyebo rule. Kaiser and Nelson were the same age.
With Justice, they both proceeded to study law at the University of Fort Hare. Justice and Nelson were expelled after participating in a strike over the quality of the food.
When Mandela returns to Thembuland he may be expected to tackle the issue of the separation of Thembuland into two territories -- one of the issues about which the Thembu people are most unhappy.
When the Nationalists came to power, Greater Thembuland remained under the chieftainship of the Dalindyebo family, but Western Thembuland was hived off to give the Mantazimas a political base.It is unknown what Mandela's exact approach to the division of Thembuland will be. But it is known that he opposed the artificial creation of the chieftainship and the division of the Thembuland people as he opposed the homeland system.
As Mandela has demonstrated through his various liaisons with the people of the Transkei throughout his imprisonment, he is prepared to work with the chiefs to achieve democracy.
Mandela would be eligible for membership of the Congress of Traditional Leaders (Contralesa), which has attempted to organise chiefs around democratic principles. Some members believe he is likely to support, guide and advise the organisation.
It is here at Mqhekezweni that Mandela's deep ties to this part of the country were forged. He was later to transfer his concern to the entire country.
A family scattered from Kei to Boston
Nearly three decades of imprisonment have kept Nelson Mandela -- husband, father, grandfather, great-grandfather -- away from his family.
But even before he began his last term in 1964, political commitments and furious campaigning for the African National Congress frequently kept him away from home. His family had to share him with the people.
Mandela has four living children, 12 grandchildren and two great-grandchildren. He lost a son and a daughter in the early years, both from his first marriage to Eveline Ntoko, a nursing sister.
Nelson and Eveline had three children: Tembi, Makgatho and Makaziwe -- named after their second child, who died at nine months.
Mandela and Eveline separated when their children were quite young and two years later Mandela divorced Eveline to marry social worker Winnie Madikizela.
Tembi was eight, Makgatho, five and Makaziwe two, and the children spent their time between their mother's home in Orlando East and their father's in Orlando West. It is said that Tembi at eight was old enough to understand the implications of his parents' divorce.
When he died in a car accident in 1969 at the age of 24, leaving his two daughters - Ndileka, three, and Nandi, eight months - he had never visited his father in prison.
Ndileka is now studying nursing at the Medical University of South Africa, and Nandi is a BA student at the University of Cape Town. Each has provided Mandela with a great-grandchild.
Makaziwe, Mandela's third child from his first marriage, is studying for a PhD in anthropology at the University of Massachusetts and will begin lecturing at the university in June. Although she was only two when her parents divorced, she apparently also suffered from the split.
She told a Washington newspaper that when she was a teenager she "became angry with her father that after years of dealing with him through a stepmother she stopped visiting him altogether.
Explained a friend of the family: 'Naturally Winnie was head of the family when Nelson was away and she arranged schooling and finance for all the children." But prompted by her mother, Makaziwe reconciled with her father in the late 1970s.
She was excited at the thought or her father's release: "I'm finally going to have a father, hopefully," she told the newspaper. Her three children, Kwaku, Dumani and Nobulali, will also gain a grandfather.
Mandela's second son Makgatho is the father of two boys, Mandla, who attends Waterford School in Swaziland, and seven-year old Thembikile, who attends the Orient School in Durban, where he is "very happy".
Makgatho has "never taken a political profile, is very reticent and retiring and for many years helped his mother run the trading store in the Transkei", according to the family friend.
Makaziwe, however, is described as very forthright and independent in her assessment of the South African situation and the various political groupings in the country.
Among the grandchildren of the first marriage, Nandi is the most politically active. But they are all "highly supportive of their grandfather and stand by him in his political beliefs", adds the family friend.
The Mandela grandchildren are also ambitious academically -- their inspiration comes from their grandfather's encouragement and guidance. Eveline has now retired from running her business, the Mandela Trading Store in Corimvaba.
Said the family friend: "She is a woman in her own right, she has tremendous integrity and high morals -- she did not even sell cigarettes at her shop because she opposes smoking.
"She respects (Mandela) and still loves him although she experienced great unhappiness at their divorce."-- Cassandra Moodley
Louise Flanagan reports that Eveline Mandela still lives in Corimvaba, a tiny town near Queenstown. It's a dusty town of trading stores and not much else.
A few days before Mandela's release there was a meeting of Jehova's Witness at her home next door to the shop she used to run and a group of youths playing the radio loudly across the road in the dusk.
On her door was a notice asking the media to leave her alone. She seemed bitter about her years of struggle when she and her children were ignored by the press, only to be invaded years later by dozens of journalists hoping for new stories.
She also said that the ANC knew where she was but never helped her. She was very reluctant to talk about the man she still regards as her husband and whose wedding ring she still wears.
While she said she was glad he would soon be out, she said she wouldn't go to see him. "He knows where I am," she said simply.