Relly and Bloom to meet Mandela
Nelson Mandela is to meet Anglo-American Corporation chief Gavin Relly and former Premier Group chairman Tony Bloom.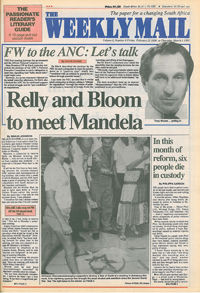 Nelson Mandela is to meet Anglo-American Corporation chief Gavin Relly and former Premier Group chairman Tony Bloom at the African National Congress leader's Soweto home on Monday.
Mandela is scheduled to receive Relly on Monday morning, and Bloom -- who arrives in South Africa from London this weekend -- is expected in Orlando West later in the day.
It will be the first face-to-face meeting between the recently-released ANC stalwart and representatives of big business, and comes after a week in which Mandela and the ANC have made a point of stressing the need for consultation with South Africa's jittery business community.
Mandela told the Weekly Mail he was to have seen Relly at Victor Verster Prison earlier this month, "but the same day I was told he was to come down, I was released. "I therefore felt that I should contact him and indicate that if he still wanted to take it up, I was ready to receive him." This led to Monday's scheduled meeting.
Anglo-American chief communications officer James Duncan said yesterday that Relly "would not like to pre-empt what might be raised in the discussions with Mr Mandela". However, he added, Relly "has been looking forward for some time to the meeting, and was very pleased to accept Mr Mandela's invitation."
Interviewed by telephone at his London home, Bloom said he was 'excited and delighted" at the prospect of meeting Mandela. "I have been watching the process unfold from here, on television," he said. "Now my meeting will make the whole thing come alive."
Bloom said he had been "Overwhelmingly impressed" by Mandela's actions since his release. "He has been absolutely remarkable. I believe he hasn't put a foot wrong' It has been a magnificent performance."
Bloom said the discussions would be open-ended, and discounted speculation that he might be considering a return to South Africa. "I said at the time of my departure for London (in 1988) that there were several personal reasons for leaving, besides politics. That hasn't changed," he said.
However he retained a strong interest in developments within South Africa, and did not rule out the possibility that if he were approached to
"help" in some advisory capacity, he would consider it.
In the interview with the Weekly Mail this week, Mandela came out strongly in favour of dialogue with businessmen and bankers.
Asked if he thought such discussions could be useful, particularly with regard to conditions for future investment, he said: "Why not? It is a natural thing to have discussions with businessmen— And our struggle has been supported by (some) businessmen from all over the world.
There is nothing so logical as meeting them, exchanging views and trying to allay their fears". Sanctions and disinvestment were specific political tactics, he said, but "once this situation is settled investment in the country is the, normal development -- we will want."