08 Feb 2010 10:44 - Staff Reporter
Mandela: Icon of freedom and forgiveness
Nelson Mandela walked out of an apartheid prison 20 years ago on Thursday, beginning South Africa's march to democracy and reconciliation.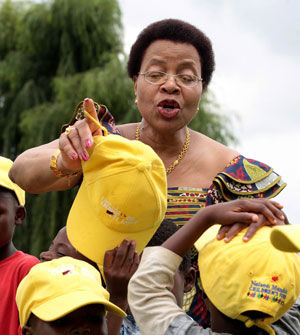 Nelson Mandela walked out of an apartheid prison 20 years ago on Thursday, beginning South Africa's march to democracy and reconciliation that made him one of the world's great statesmen.
When he does appear in public, he leans on his wife, Graca Machel, or on aides to walk.
But in the popular consciousness, Mandela remains the towering figure who appeared on February 11 1990, with arms outstretched on the balcony of Cape Town's city hall to greet the 50 000 people clamouring to see him after his 27-year imprisonment.
"I greet you all in the name of peace, democracy and freedom for all," he said then, in a speech broadcast across the globe.
"Our struggle has reached a decisive moment," he said. "We call on our people to seize this moment so that the process towards democracy is rapid and uninterrupted. We have waited too long for our freedom."
Four years later, the prisoner became president, setting South Africa on a course toward reconciliation by restoring dignity to the black majority and reassuring white South Africans they had nothing to fear from change.
'Most admired and revered statesperson in the world'
"When he emerged from prison, people discovered that he was all the things they had hoped for and more," said his fellow Nobel prize winner, Archbishop Desmond Tutu.
"He is by far the most admired and revered statesperson in the world and one of the greatest human beings to walk this earth."
Rolihlahla Dalibhunga Mandela, affectionately known by his clan name "Madiba", was born in Mvezo village in one of South Africa's poorest regions, the Transkei. He is the great-grandson of a Tembu king.
He was given his English name "Nelson" by a teacher at his school.
An activist since his student days at Fort Hare University, Mandela opened South Africa's first black law firm in Johannesburg in 1952, along with fellow activist Oliver Tambo.
He became commander-in-chief of Umkhonto weSizwe, the armed underground wing of the African National Congress, in 1961, and the following year underwent military training in Algeria and Ethiopia.
After more than a year underground, Mandela was captured by police and sentenced in 1964 to life in prison during the Rivonia trial, where he delivered a speech that was to become the manifesto of the anti-apartheid movement.
"During my lifetime, I have dedicated myself to this struggle of the African people. I have fought against white domination and I have fought against black domination. I have cherished the ideal of a democratic and free society ...
"It is an ideal for which I am prepared to die."
Drive for reconciliation
Mandela was jailed on Robben Island for 18 years before being transferred in 1982 to Pollsmoor prison in Cape Town and later to Victor Verster prison in nearby Paarl.
As international sanctions mounted, hard-line president PW Botha was replaced in 1989 by the more conciliatory FW De Klerk, who a year later ordered Mandela's release. Both men were awarded the Nobel Peace Prize in 1993.
Mandela embodied the hopes of his nation in April 1994 when he cast his ballot for the first time in his life.
In office, he used his keen sense of the power of symbolism to further his drive for reconciliation, famously having tea with the widow of apartheid architect Hendrik Verwoerd, and donning the Springbok rugby jersey to congratulate the mainly white team's victory in the 1995 Rugby World Cup.
He served only one five-year term, but later devoted his energy to mediating conflicts, including the war in Burundi.
In 1998, on his 80th birthday, Mandela, after having divorced Winnie Madikizela-Mandela, married Graca Machel, the widow of Mozambican president Samora Machel.
In 2005, he announced his only surviving son had died of Aids and appealed for openness about the disease, one of the few African leaders to do so. -- AFP