29 Apr 2010 07:34 - Ronald Blum
SA prepares red carpet for Obama
The top South African World Cup organiser says his country is prepared to have United States President Barack Obama visit during the tournament.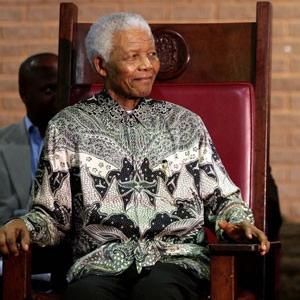 The top South African World Cup organiser says his country is prepared to have United States President Barack Obama visit during the tournament.
Obama met last summer at the White House with Fifa president Sepp Blatter, and South African officials have said Obama has told them he might try to attend if his schedule allows.
"It would be wonderful it he comes," Danny Jordaan, the Local Organising Committee chief executive officer, said on Wednesday.
"We expect a high number of heads of states during the World Cup."
"We're going to get many high-profile individuals," he said.
"The government will take the necessary security precautions."
Blatter and Jordaan are also hoping that former South African president Nelson Mandela can attend.
Mandela 'would prefer to be at home'
"Of course Mandela is 91 years old," Jordaan said. "It's something that we have to wait and see."
However Mandela's grandson Chief Mandla Mandela said on Wednesday that the Nobel Prize winner would "certainly not" be attending the tournament.
"My grandfather at this age is very elderly and we are not trying to intensify his programme. He's said he would prefer to be at home in the rural countryside to spend time at the farm."
"What we understand is that during the World Cup he will be given the opportunity to rest in the countryside."
A final decision will be made by the family and the Nelson Mandela Foundation closer to the tournament's kick-off on June 11, he added, stressing that there were no immediate health worries.
Jordaan said it was hard to evaluate a purported threat by al-Qaeda directed at the high-profile United States-England match on June 12. Jordaan said the "authenticity of that thing" has not been determined.
Fifa general secretary Jerome Valcke said in February that South Africa would fail to draw the 450 000 international visitors it once projected for the tournament, and South African Tourism Minister Marthinus van Schalkwyk said this month the figure could be as low as 300 000.
Jordaan projected 373 000 international visitors, of which 100 000 would come from neighbouring countries. There are still 120 000 to 140 000 unsold tickets.
Part of the difficulty has been caused by the global recession.
"That crisis affected many of the countries in Europe, including England and Germany, which happen to be the major markets," he said. "And even now you see the crisis in Greece. And people in 2010 who may have had the capacity to travel in 2004 and '05 may now not have that capacity."
Still, the US leads foreign countries with 160 000 tickets bought, despite high prices for airfare and hotels.
"It seems the recovery has been good in the States," he said.
What about the Olympics?
"And certainly fans follow teams that they believe in. And we've seen after the United States made it to the final of the Confederations Cup and was leading Brazil 2-0 at halftime, that fans in the US decided this is a team that has a chance in this
World Cup. And as the teams progress into the second round and latter stages, there will be a further influx of fans into the country."
Jordaan hopes the World Cup will leave a lasting boost on tourism. South Africa had just over 10-million international visitors last year and hopes to increase the figure to 15-million annually by 2014.
South Africa may try to follow the World Cup by bringing the Olympics to Africa for the first time in 2020. Jordaan has said he could envision Johannesburg, Cape Town or Durban as host cities.
"If you can host the World Cup and if we have the infrastructure, what about the Olympics? That's the obvious question that's going to be raised," he said. "It's the last of the mega-events outstanding for the continent." - Sapa-AP