10 Jun 2010 11:42 - Fienie Grobler
'It's going to be an incredible day'
World Cup organiser Danny Jordaan says the excitement ahead of the tournament reminds him of the day before Nelson Mandela was released from prison.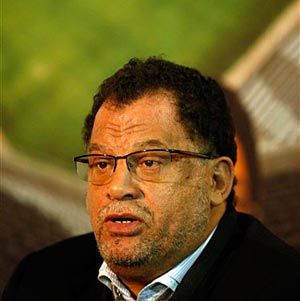 World Cup organiser Danny Jordaan used words like "duck", "post office", "prison" and "snakes" to describe his emotions a day before Africa hosts the world's biggest football event.
The CEO of the local organising committee on Thursday said the excitement reminded him of the day before anti-apartheid icon Nelson Mandela was released from prison; or the day before South Africa's first democratic elections in 1994.
"Tomorrow [Friday] is going to be an incredible day," Jordaan told journalists at a breakfast briefing in Johannesburg.
He likened the run-up to the 2010 Soccer World Cup to the struggle against apartheid, joking that his next career move might be to the Post Office.
"Then the prison doors opened and he [Mandela] walked out ... and we thought, what are we going to do next?
"I think I will look for a smaller job now ... like a job in the Post Office. I think I've seen enough struggle."
During the country's key historic moments, the rest of the world -- and some South Africans -- always seemed to expect the worst of South Africa, said Jordaan.
"You see the headlines: 'Race war', 'Bloodshed', 'Chaos', 'Plan B', 'Don't do it', 'It's not going to happen'," he said.
"And then ... the celebration after.
"South Africans are late believers, but once they believe they are fanatical believers."
Bafana success
The recent successes of Bafana Bafana -- whose visit on a party bus to Sandton in Johannesburg on Wednesday drew tens of thousands of fans on to the streets -- played a big role in South Africans' new-found optimism.
"Of course our team has increased our ability to believe," said Jordaan, referring to Bafana Bafana's 12 consecutive wins.
He said he knew the foreign media had nothing bad left to write about the World Cup when he read a Britain-based Daily Mail report about "killer pythons, spitting cobras, puff adders and black mambas" threatening English soccer players.
"The paper [reported] about the snakes ... the last problem is the snakes in South Africa, and one snake can kill off two teams, and I thought, now, if you say the only problem we have are snakes, I thought, now you are really desperate. You are throwing in the towel."
Jordaan warned Brazilian soccer authorities, who were hosting the 2014 Soccer World Cup, to brace themselves for bad publicity and scepticism over a developing nation hosting such a big event.
"Brazil must be ready to live with the [negative] headlines for the next four years, but I think that must be inspiration, so that you can sit there and tell them [journalists] you don't know what you are writing about."
He said he often felt like a duck treading water in the face of criticism.
"You see the duck on the water, moving in a tranquil environment, but below, these feet are just moving at speeds to keep the duck afloat and moving forward. So, ja, it was difficult ...
"I am very tired, I need a break, I need to rest. So, what I'm going to do after [the World Cup] ... that is what I will think about during that rest.
"It has a been a long journey."
Madiba magic
To top the journey off, he said he really would like to see former president Nelson Mandela at Soccer City during the opening on Friday, when Bafana play Mexico.
"Nelson Mandela is nearly 92 years old ... he himself wants to be there. Whether he stays five minutes or the whole match is really not our decision. As things stand now, there is a very, very great chance that, in fact, he'll be there because he wants to be there ...
"How long he will stay, that is really his decision. But we'll just be happy if he shows his face," said Jordaan.
Mandela has been the symbol of a democratic South Africa, whose residents saw racial barriers being broken down in the run-up to the Cup, especially when the Blue Bulls rugby team trekked to Soweto for the Super 14 semifinal and final, he said.
The opening day was set to become a pivotal day in South Africa and Africa's history, said Jordaan.
"It is a psychological barrier that has been crossed ... it's an assertion of who we are as Africans and what we can deliver." -- Sapa