12 Jun 2010 07:43 - Staff Reporter
World Cup is 'a dream come true'
South African fans declared their undying hope for Bafana Bafana on Friday night, encouraged by its draw against Mexico in the opening match.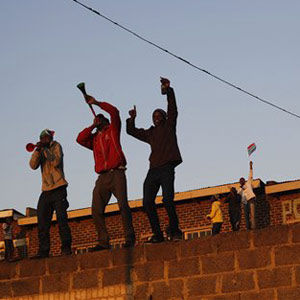 South African fans declared their undying hope for Bafana Bafana on Friday night, encouraged by its draw against Mexico in the Soccer World Cup opening match.
A sense of pride was in the air a few hours after the team, ranked 83rd in the world, drew 1-1 against the 17th-ranked Mexican side at the Soccer City stadium in Soweto.
The first goal -- by Bafana Bafana's Siphiwe Tshabalala -- caused the country to explode in celebration.
It came in the 55th minute of the first game of the first World Cup to be hosted on African soil.
"We have that one moment, it can last all night. It defined everything," said student Makabongwe Tonga, who watched the game in the Grand Parade in Cape Town.
Another fan, Lucky Mapale (22) reflected what was on the mind of most South Africans: "At least we didn't lose. At least we got something."
Africa's big moment finally arrived in the shape of a soccer ball, calabash and vuvuzela.
The world's single biggest sports event kicked off without any major glitches -- barring hectic traffic jams -- and with unprecedented festivities countrywide.

"A dream came true," said Fifa president Sepp Blatter, competing with the sound of vuvuzelas from over-excited fans who had packed the 94 500-seat stadium.
"Here we are. The Fifa World Cup ... it's in Africa. Thank you. Congratulations. Congrats to the African population, to South Africa for letting us stage this World Cup here," said Blatter after the opening ceremony, which was watched by about one billion television viewers.

He added, to deafening applause: "Even if he is not here tonight, the spirit of Mandela is in Soccer City."

Bafana Bafana goalkeeper Itumeleng Khune said in a post-match interview that he had realised the team could compete with the best in the world.
Bafana coach Carlos Alberto Parreira said after the game that four points would be enough to go through to the next round, adding that the match against France on June 22 would be the decider.
The team face Uruguay on June 17.
'The atmosphere was incredible'
Matthew Booth -- a senior player who watched the game from the bench -- said: "The atmosphere was incredible and very emotional, but we have handled ourselves well in the circumstances and can look forward to a better performance in the next match."
Africa's first World Cup came almost two decades after Fifa lifted a ban on South Africa and 16 years after the country's first democratic election.
Anti-apartheid icon Nelson Mandela, who famously lifted the Fifa trophy in Zurich in 2004 when South Africa was announced the host city, did not attend the historic event on Friday.
His great granddaughter, Zenani, died in a car crash on Thursday night after returning from the Fifa opening concert in Soweto.
Mandela had sent a message that was conveyed by President Jacob Zuma.
"He [Mandela] had wanted to come to greet you before the start of the match, but unfortunately there was a tragedy in the Mandela family, but he said 'the game must start you must enjoy the game'," Zuma told the crowd.
Zuma then announced: "Allow me, ladies and gentlemen, to say I'm honoured and privileged to be given an opportunity to declare the 2010 Fifa Soccer World Cup open."
At least 20 heads of state from Africa attended the opening, including Zimbabwean President Robert Mugabe and Prime Minister Morgan Tsvangirai.
Other dignitaries included apartheid's last president FW de Klerk, Nobel laureate Archbishop Emeritus Desmond Tutu and US Vice-President Joe Biden.
Barring wide-spread traffic problems, the start of the tournament went relatively smoothly.
Loud, emotional day
The opening event began with a flypast and a ceremony ablaze with colourful African textiles, dance and song.
Fighter jets drowned out thousands of trumpeting vuvuzelas in the stands as many ticket-holders watched from outside the stadium because traffic jams had delayed their arrival.

It was a loud and emotional day, marked by unifying festivities ranging from small, far-flung villages to suburbs such as Sandton, where fan parks were filled to capacity.
Police spokesperson Colonel Vishnu Naidoo said at some fan parks authorities decided to open the gates for fear that the fences might collapse from supporters standing outside.
No security glitches were reported.
The biggest complaint from fans seemed to be beer running out.
"It's really sad. We didn't get to have any beer," said Jonathan Adams, an insurance agent at the Sandton fan park.
But James Hlomelu, who was celebrating at Newtown in Johannesburg, did not appear to have the same problem.
The day had -- almost -- left him at a loss for words.
"I can't even explain it, I'm so excited -- I'm everything," he said.
"I'm going to drink until tomorrow, I'm not going to sleep." - Sapa