19 Jul 2010 08:04 - Donna Bryson
South Africans mark Mandela's birthday
A South African community once riven by anti-foreigner violence came together on Sunday in the spirit of Nelson Mandela to play a little soccer.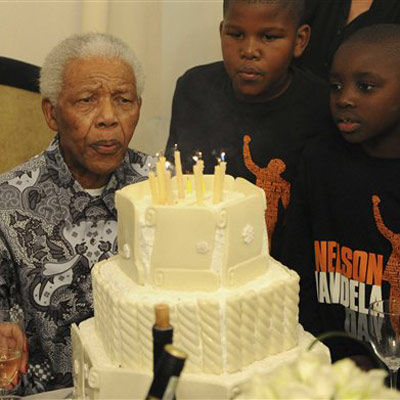 A South African community once riven by anti-foreigner violence came together on Sunday in the spirit of Nelson Mandela to play a little soccer.
The so-called "goodwill games" were among activities around the world marking Mandela Day, which falls on Mandela's July 18 birthday and was conceived as an international day devoted to public service. Community leaders in Atteridgeville organised the unity-building tournament of teams of South Africans, Zimbabweans, Mozambicans and Somalis who all live in this poor, black neighbourhood on the western edge of South Africa's capital.
Mandela, who turned 92 years old on Sunday and is largely retired from public life, was spending the day with his family in Johannesburg. Early on Sunday, his wife went to an orphanage in Soweto to help plant a vegetable garden.
"Today is an opportunity for millions of people around the world to look inside themselves and find those beautiful qualities as any human being has and say: 'I am able to make a difference to my neighbour, to someone underprivileged, I can extend my goodness to other people,"' Graça Machel said on Sunday.
She said that while her husband was no longer so physically strong, "his spirit is strong as ever".
President Jacob Zuma and other government officials were marking the day in Mandela's birthplace of Mvezo by planting trees and painting classrooms in that far southern region of the country
that is among the poorest in South Africa.
In a speech in Mvezo, Zuma said Mandela taught South Africans that "we must work together to entrench African unity and solidarity in our country".
He said South Africans had embraced visitors from the rest of the continent during the World Cup that ended a week ago. After their own national team was knocked out early, many South Africans cheered for Ghana, the African team that went the farthest in the tournament.
"We urge a continuation of this spirit of African unity, love and friendship," Zuma said.
President Barack Obama, in a statement released on Sunday by the White House, wished Mandela a happy birthday.
"We are grateful to continue to be blessed with his
extraordinary vision, leadership, and spirit. And we strive to build upon his example of tolerance, compassion and reconciliation," President Obama said.
He encouraged the public to heed the call to engage in some form of service to others, and said of Mandela, "We strive to follow his example of what it means to truly give back to our communities, our nations, and our world."
Mandela Day organisers in South Africa this year had called on citizens to, among other things, honour the anti-apartheid leader by devoting time to calming fears anti-foreigner sentiment could again
erupt into widespread violence, as it did in Atteridgeville and across the country in 2008.
National police commissioner Nathi Mthethwa was in Atteridgeville on Sunday. He kicked a ball around with young men on a dusty field next to a cemetery before the tournament began.
Earlier, he addressed a crowd of about 1 000 on the field. Mthethwa said Mandela had taught South Africans about the need for unity and cohesion.
The people of Atteridgeville listened intently to Mthethwa, some recording him on their cellphones, as he spoke in a mixture of Sotho and English. He said other Africans had supported South Africans in the fight against apartheid, and now were bringing skills and resources that would help build the economy.
"My brother from another mother is still my brother," Mthethwa said. "My sister from another mother is still my sister." In 2008, protests over lack of homes, schools, jobs and clinics for the poorest South Africans erupted into anti-foreigner rioting.
More than 60 people were killed -- two in an Atteridgeville squatter camp -- in weeks of sporadic violence scattered in squatter camps and other impoverished areas across South Africa.
Sociologists trying to explain what happened pointed to decades of vilification of other black Africans by the white government during the apartheid years, and competition now for scarce
resources as people from poorer, less stable countries to the north come to South Africa in search of opportunity.
Researchers at Johannesburg's University of the Witwatersrand have found cases where local political leaders or businesspeople organised attacks on foreigners, either to consolidate political
power or eliminate economic competition.
Such conditions have not eased, but the scale of the 2008 attacks has not been revisited despite reports in recent weeks of new threats to foreigners.
Sunday, as Mthethwa listened, a master of ceremonies led a call and response in Atteridgeville: "Away with xenophobia, away!"
"Away!" the crowd responded, before local religious, political, business and other leaders presented the police commissioner with a signed pledge to build a "united, nonracial, nonsexist, democratic, prosperous, humane and caring society". - Sapa-AP