10 Sep 2010 15:26 - Yolandi Groenewald
Thaksin on 'courtesy call' to Mandela
No business was discussed with the fugitive Thai politician, says foundation.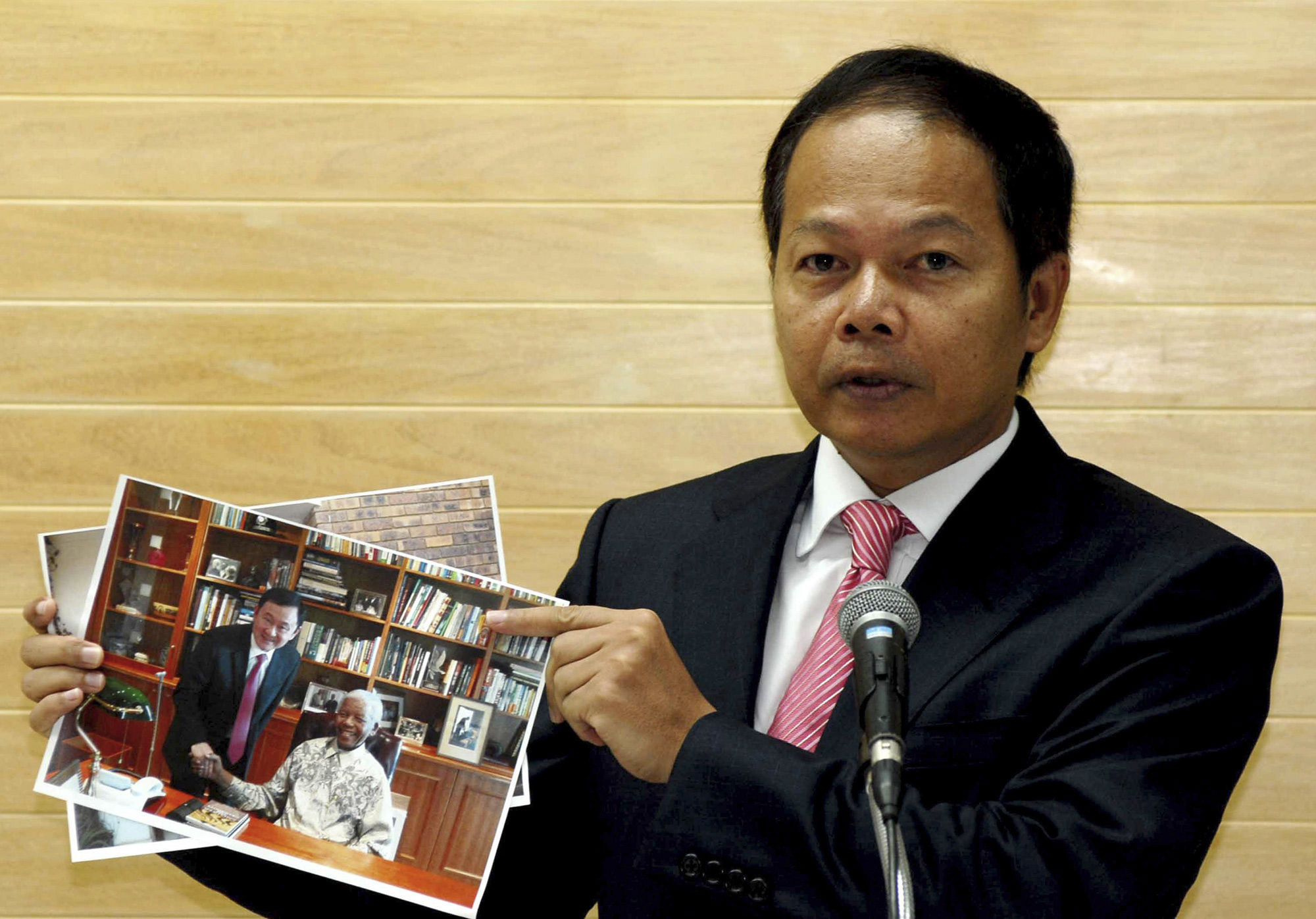 No business was discussed with the fugitive Thai politician, says foundation
The Nelson Mandela Foundation has distanced itself from Mandela's meeting last month with controversial former Thai prime minister Thaksin Shinawatra, a fugitive from justice, saying that the encounter was "a private courtesy call".
The controversy over the meeting comes hard on the heels of the furore over Mandela's encounter with former Liberian leader Charles Taylor, now facing genocide charges in The Hague. During his trip Taylor handed alleged blood diamonds to supermodel Naomi Campbell, which she entrusted to the foundation.
Globetrotting Thaksin was the Thai prime minister until 2006 when he was ousted in a coup. He has since been convicted in absentia on corruption charges, and there is an arrest warrant out for him on terrorism charges.
Sello Hatang, the spokesperson for the foundation, said the foundation had not facilitated the meeting and it could not provide details of who had facilitated it.
He explained that there was a strict protocol established by the foundation for courtesy calls with Mandela. Though the meeting did not take place at the former president's house, it took place during his private time.
"It was not organised by trustees or any staff member of the Nelson Mandela Foundation, the Nelson Mandela Children's Fund or any of the Mandela organisations," he said.
"To our knowledge, no business was discussed during the visit and the meeting lasted no more than 10 minutes. We do not have any further details."
Thaksin appears to have been in South Africa at the end of August to seal a deal with Miranda Minerals, a broad-based minerals exploration group listed on the JSE.
Miranda announced last week it had secured an investment of R98,2-million from a Dubai investment firm, Global PS Telecom, chaired by Thaksin. The investment will result in Global holding 34,99% of Miranda.
Thaksin is listed as the 23rd richest man in Thailand and is said to be worth $390-million. His businesses have a strong Africa focus.
In February he travelled to Uganda to launch Go Lotto, of which Global PS is the operator, and reportedly travelled to inspect mines in Liberia and Swaziland.
Thaksin's meeting with Mandela came to light when the former premier's lawyer, Noppadon Pattama, held a press conference to allay fears about Thaksin's reportedly bad health by brandishing a photograph of Thaksin with Mandela.
He said Thaksin had stayed out of the spotlight to avoid "stirring up controversy and facilitate reconciliation" in Thailand. His meeting with Mandela was to learn about reconciliation from the great man.
Noppadon also revealed that Thaksin had met Winnie Madikizela-Mandela on the same day and also had a photograph of himself with her.
Thaksin became a fugitive in 2008 when the Thai Supreme Court convicted him of a conflict of interest and sentenced him in absentia to two years in jail. He had flown to the Beijing Olympics and, citing safety concerns, did not return for the court verdict.
In May this year a Thai court issued an order for his arrest on terrorism charges in connection with the deadly riots that rocked Thailand this year, led by the Red Shirts.
The Thai government believes he funded the 10-week anti-government protests and organised the smuggling of arms and fighters from Cambodia. At least 85 people were killed in Bangkok and more than 1 400 wounded.
In spite of being a fugitive, Thaksin openly travels the world on business and attends high-profile events such as the Olympics and the Cannes film festival.
He is an avid tweeter, using Twitter and his website as a public-relations tool.
He has a particular taste for being photographed with the rich, famous and powerful and his website is embellished with pictures of his travels and meetings.
He was also recently pictured with Swaziland's King Mswati III.
Though his Thai passport has been withdrawn, Thaksin has passports from Uganda, Nicaragua and Montenegro.
He often travels under the name Taki Shinagro and it is believed his foreign passports may be in this name.