10 Oct 2010 14:17 - Griffin Shea
Mandela: 'I'm no saint'
A collection of Nelson Mandela's papers reveals his years of heartache at missing his family while in prison and his wariness at becoming idolised.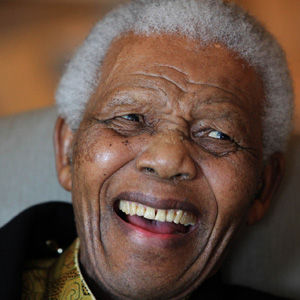 A new collection of Nelson Mandela's private papers reveals his years of heartache at missing his family while in prison and his wariness at becoming idolised, in excerpts published Sunday.
The book Conversations with Myself goes on sale on Tuesday, but passages printed in British and South African papers show his thoughts on everything from the danger of corruption in power to his grief at his son's death.
Decades' worth of letters, diaries and private recordings were distilled by his eponymous foundation in a project that purports to show the private man behind the global icon.
Now 92, the man who won the Nobel Peace Prize for his struggle against the white-minority apartheid government says he doesn't want to be remembered as a larger-than-life saint.
"One issue that deeply worried me in prison was the false image I unwittingly projected to the outside world; of being regarded as a saint," he said in an excerpt printed in South Africa's Sunday Times.
"I never was one, even on the basis of the earthly definition of a saint as a sinner who keeps trying."
Mandela was detained for 27 years for resisting apartheid rule. He was released in 1990 and led negotiations with the government that culminated in his election as the country's first black president in 1994.
He stepped down in 1999, after serving one term in office. Today he appears frail and makes few public appearances since retiring from public life in 2004.
Rounded discussion
He remains deeply revered in South Africa, and although he has spoken publicly about his shortcomings, critical talk is almost non-existent about the man known fondly by his clan name Madiba.
The book appears to invite a more rounded discussion of his life, while also focusing on the enormous personal sacrifices required by his devotion to the liberation struggle.
"As a young man, I combined all the weaknesses, errors and indiscretions of a country boy, whose range of vision and experience was influenced mainly by events in the area in which I grew up and the colleges to which I was sent," he wrote.
"I relied on arrogance to hide my weaknesses," he added.
In letters written to his family while in prison, Mandela wrote that he felt "soaked in gall" by being powerless to help his then-wife Winnie and his children, according to an excerpt published in Britain's Sunday Times.
"I feel I have been soaked in gall, every part of me, my flesh, bloodstream, bone and soul, so bitter am I to be completely powerless to help you in the rough and fierce ordeals you are going through," he wrote to Winnie Mandela in August 1970.
When Winnie was also jailed for a time in 1969, he wrote to his daughters Zeni and Zindi, then aged nine and 10, that "now she and Daddy are away in jail".
"It may be months or even years before you see her again. For long you may live like orphans without your own home and parents, without the natural love, affection and protection Mummy used to give you."
The letters also reveal his sometimes stormy relations with Winnie, whom he divorced after his release from prison.
In a letter to a friend in 1987, he says that after writing to Winnie to say that their daughters had grown up well: "My beloved wife was furious ... she reminded me: 'I, not you, brought up these children whom you now prefer to me.' I was simply stunned."
A poignant letter to a friend records his reaction after Thembi, the elder of two sons from his first marriage, died in a car crash at the age of 24 in 1969. He was not allowed to attend the funeral.
"When I was first advised of my son's death I was shaken from top to bottom," he said, adding that he had experienced similar heartache when he lost a nine-month-old baby girl several years earlier.
Some of his musings resonate in modern South Africa's concerns about corruption in politics.
"Frequently erstwhile revolutionaries have easily succumbed to greed, and the tendency to divert public resources for personal enrichment ultimately overwhelmed them," he said.
"They virtually deserted the masses of the people and joined the former oppressors, who enriched themselves by mercilessly robbing the poorest of the poor."
Mandela himself isn't expected to speak about the book's release. His last public outing was a brief appearance at the World Cup final in July in Johannesburg. - AFP