21 Oct 2010 00:00 - Lionel Faull
'Mandela autopsy' artist unveils completed work
Towering black Highveld storm clouds gathered overhead as Yiull Damaso unveiled his completed "Mandela corpse" artwork on Tuesday night.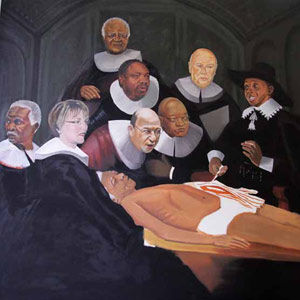 Towering black Highveld storm clouds spewed jagged lightning and growling thunder overhead as Yiull Damaso unveiled his completed "Mandela corpse" artwork at Constitutional Hill on Tuesday night.
Little-known Zimbabwean-born Damaso shot to national prominence in July this year when he set up his easel in Johannesburg's upmarket Hyde Park shopping centre and began creating the oil painting, based on Rembrandt's The Anatomy Lesson of Dr Nicolaes Tulp, which depicts Nelson Mandela as a corpse being autopsied by late Aids activist Nkosi Johnson.
The autopsy is watched by a cast of prominent contemporary South Africans including Desmond Tutu, Thabo Mbeki, Jacob Zuma, Cyril Ramaphosa, FW de Klerk and Helen Zille.

After the Mail & Guardian broke the story online, the ANC condemned Damaso's painting as racist as well as being "in bad taste, disrespectful and ... an insult and an affront to values of our society".
The ANC also condemned the M&G's decision to publish the image on its front page.
Senior party spokesperson Jackson Mthembu was quoted as saying: "It is in bad taste, disrespectful and it is an insult and an affront to values of our society."
Mthembu said the front-page use of the picture had strengthened the ruling party's resolve to establish a media tribunal

Damaso unveiled The Night Watch in front of a small, supportive audience who -- like the thunderstorm that failed to materialise on Tuesday night -- were not as hostile as might have been expected for such a controversial artwork.

The painting's title derives from its depiction of prominent South African leaders watching the dissection of Mandela.
Damaso said the decision to exhibit the painting at Constitution Hill was "appropriate" because "it is a site which represents freedom of expression".

He explained the painting grew out of the idea that South Africans will have to face the idea that Mandela will die.

"Unfortunately, that day is just around the corner," he said.

Damaso had not anticipated the public outcry his painting would cause: "The whole experience forced me to grow up a great deal as a person and as an artist."

'I have an allergy to people who racialise'
Professor Pitika Ntuli, an internationally renowned artist and academic, opened the exhibition, which included four other Mandela-themed artworks by Damaso.

Ntuli said he had initially been opposed to the autopsy painting, but after he engaged with Damaso about his reasons for the work, he decided to support the artist.

"There are two worlds -- the world of reality and the world of the imagination," Ntuli said. "As soon as you conflate the world of reality with the imagination -- taking art literally as fact -- then you run into trouble."

Referring to the outrage expressed by "some politicians", Ntuli said: "I have an allergy to people who racialise. Immediately when people start to prescribe what an artist should and shouldn't do, you incur my wrath."

Ntuli said the painting "will probably stand the test of time" but added that Damaso "could have done more to layer the use of paint to add depth and texture, so that it becomes more than just a provocative image".

"But he's still young -- he has plenty of time to realise the technique," Ntuli added.

Carolyn Davies, an interior designer, said she liked the autopsy painting but found it "a bit macabre".

"I'd far rather hang that painting in my home," she said, pointing to an aquamarine and rust-coloured portrait of a smiling Mandela that was attracting much less attention than The Night Watch hanging to its right.

Damaso's Mandela-themed artworks will be on display at the book shop opposite the Constitutional Court at Constitution Hill until October 31.