28 Jan 2011 04:20 - Staff Reporter
Mandela: World waits and watches
Former president Nelson Mandela remained in Milpark Hospital receiving care for an apparent respiratory condition on Thursday afternoon.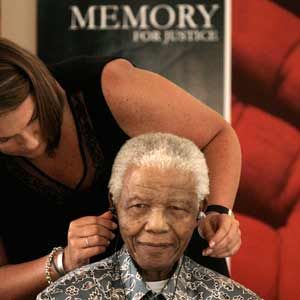 Former president and liberation icon Nelson Mandela remained in Milpark Hospital receiving care for an apparent respiratory condition on Thursday afternoon as family members, political figures and military officials came and went.
Amid intense local and international speculation and concern, there was no official update on his condition by the time the Mail & Guardian went to press.
The Nelson Mandela Foundation (NMF) on Wednesday afternoon said that Mandela had been hospitalised for routine tests and was in good spirits.
As it became clear during Thursday that the situation was more serious than that, discussion among key stakeholders including the Mandela family and government about how best to handle communication with the public meant no details were forthcoming.
Mandela's wife, Graça Machel, his former wife, Winnie Madikizela-Mandela, and several children and grandchildren were seen at the hospital. His former personal assistant, Zelda la Grange, also visited.
Other visitors, including Justice Minister Jeff Radebe and struggle stalwart Albertina Sisulu, all left two hours after arriving at the hospital.
Mandela's grandson, Mandla, left the hospital shortly before senior military officers were also seen leaving.
President Jacob Zuma, who is in Switzerland, confirmed through a statement that he is being kept abreast of Madiba's condition.
Mandela is normally taken care of by military doctors but was taken to Milpark to see a specialist.
"He was having serious respiratory problems," said an official who asked not be named because of the sensitivity of the matter.
Pulmonologist Michael Plit told Johannesburg's Star newspaper that Mandela had been admitted for investigation. Others who are in contact with the key role-players provided similar accounts of his condition.
The African National Congress (ANC) and the ANC Youth League released statements that wished Madiba well and appealed for calm among South Africans.
The presidency released a statement saying that Madiba is "comfortable and well looked after by a good team of medical specialists".
Democratic Alliance leader Helen Zille wished him a speedy recovery. "We must respond to the current situation with the dignity and calm that he would expect," she said.
A presidency official said on Thursday the ANC and NMF had decided they would release joint statements. "We, in collaboration with Madiba's family, will be updating you on a regular basis," he said.
Archbishop Emeritus Desmond Tutu asked journalists in Bloemfontein on Thursday what more the country wanted from Mandela.
Answering questions about him during the opening of the International Institute for Studies in Race, Reconciliation and Justice at the University of Free State, Tutu said: "What more do we want from him? We want him to remain forever, but you know — anything can happen."