12 Feb 2011 07:43 - Staff Reporter
Mandela 'very well' after health scare, says daughter
Former South African president, 92, in good humour and looking forward to boxing, says Zindzi Mandela-Hlongwane.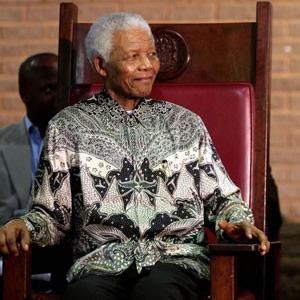 Former South African president, 92, in good humour and looking forward to boxing, says Zindzi Mandela-Hlongwane
Nelson Mandela is "very well" after his recent health scare and maintaining his sense of humour, according to his daughter, Zindzi Mandela-Hlongwane.
The former South African president was hospitalised last month with an acute respiratory infection, sparking internet rumours and panic over his condition.
But the 92-year-old has since returned to his home in Johannesburg, where he continues to receive treatment.
Zindzi, currently in the United States, told Reuters: "He is recovering very well. Sense of humour, he eats, spends time with his grandchildren. He's very well thank you."
The upbeat assessment was echoed by Jacob Zuma, the South African president, during his State of the Nation address to Parliament on Thursday.
Referring to Mandela by his clan name, Zuma said: "We want to assure the nation that Madiba is receiving very good medical care, and is comfortable."
He urged South Africans: "We need to accept the reality that President Mandela, who is loved by all of us, young and old, men and women, black and white, is not young any more.
"He will, from time to time, visit medical facilities for checkups, which is normal for a person of his age.
"We should allow him to do so with dignity, and give the family and the medical team the space to look after him, on our behalf, in privacy."
Media blackout
The near media blackout during Mandela's two nights in hospital provoked fierce criticism of the government and of the Nelson Mandela Foundation, which was forced to deny claims that its spokesman lied to the public. The sudden dismissal of Themba Maseko as head of government communications was no coincidence, according to some commentators.
Unlike last year, Mandela did not attend the opening of parliament and will not be making any public appearances to mark the 21st anniversary of his release from apartheid-era imprisonment.
But there is one item in his diary, Zindzi revealed: fight night. She said Mandela remains an avid boxing fan and will be watching Filipino pugilist Manny Pacquiao's next world title defence on May 7.
"My father is still very much aware of who the fighters are," said Zindzi, who was at a press conference with Pacquiao and American Shane Mosley, his challenger for the WBO welterweight crown, at a hotel in Beverly Hills.
"I was just telling both Shane Mosley and Manny Pacquiao ... my father sits up to watch a fight and he still loves the sport with a passion."
Mandela himself started boxing while at Fort Hare University in Eastern Cape province and shadowboxed during his 27 years in jail. He is also a friend of former world heavyweight champion Muhammad Ali.
"I grew up knowing that my father was a boxer," said Zindzi, who is in Los Angeles to promote Mandela Day -- 18 July.
"We always had those pictures at home of him shadowboxing and I knew the gym where he used to go and practise and spar and so on.
"When he came out of prison, he was already a grown man and he couldn't go back to the sport but we used to go to boxing bouts together."
Mandela was particularly impressed by eight-times world champion Pacquiao, who won a seat in his national congress last year and is revered for his humanitarian work in the Philippines.
"My father has a respect for anybody like Manny who stands up and takes a stand and is willing to serve his people, because that is what he [Mandela] represents," she said. - guardian.co.uk