09 May 2011 12:39 - Sibongile Khumalo
In search of Mandela's lost Makarov pistol
Almost half a century ago, Nelson Mandela walked 20 paces from the kitchen of his hideout north of Johannesburg and dug a pit and buried a pistol.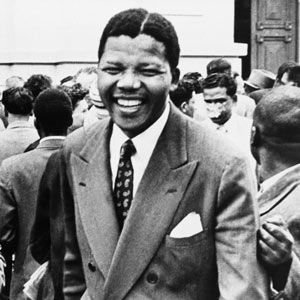 Almost half a century ago, Nelson Mandela walked 20 paces from the farmhouse kitchen of his hideout north of Johannesburg and dug a pit where he buried a pistol.
The gun is now the target of a treasure hunt on what used to be Liliesleaf farm, now an affluent suburb where one home has already been demolished and another is up for auction in the search for Mandela's lost pistol.
The farm was used by African National Congress (ANC) activists in the 1960s. Mandela buried the gun there in 1962 when he was the commander-in-chief of the newly formed Umkhonto weSizwe, the ANC armed wing.
Its existence came to the fore when Mandela visited his former hide-out in 2003.
"I and he were walking out of the main house when he suddenly stopped and said to me, 'Have you found my gun?' -- which completely threw me, because we knew nothing of this gun," said Nicholas Wolpe, the chief executive of Liliesleaf, now a museum.
"He gesticulated at a 45° angle," said Wolpe.
His words sparked a frenzied search on the property. Parts of the garden were dug up and a neighbouring home was bought and demolished, without unearthing the semi-automatic Makarov pistol.
Auction
An expert contracted by the Trust has determined that another neighbour's home was one of three possible hiding places.
"Using the information we gave him, he identified three possible sites. Two are in our property," Wolpe told Agence France-Presse. "So there is still hope."
The owner of the neighbouring home, apparently under pressure from prospective buyers, has put it up for auction, fuelling interest from local and international bidders who want to know what might be buried on the property.
"We are disappointed with the route [the owner] has taken. We have always maintained that we would like to buy the property once we can raise the funds," said Wolpe.
"He has denied us access to it unless we buy the house," he added.
Wolpe said the Trust currently had no money to buy it and won't participate in the auction on Thursday.
'We buried it'
The Makarov pistol, estimated to be worth R22-million ($3,3-million), was given to Mandela by Colonel Biru Tadesse of the Ethiopian Riot Battalion in Addis Ababa when he was on a trip to seek military assistance.
It is believed to be the first gun of the armed struggle against apartheid, and it never discharged a shot, because Mandela was arrested before he could use it.
Information given to the Trust by journalist Allister Sparks, who interviewed Mandela in 1992, suggests that he buried other weapons, including 200 rounds of ammunition, a khaki uniform and other artefacts, said Wolpe.
Mandela told the journalist: "We dug a pit, deep enough so a plough could not uncover it, next to an oak tree."
Wolpe said the existence of the gun was not in question.
"...we do know that the gun exists. We do know that it was given to him. We do know that he buried it because he said 'we buried it'. The question is, who are the 'we'?" he said.
A historical artefact
He said other people who were close to Mandela at the time had all died and there was no chance of going back to the increasingly frail 92-year-old leader for more details.
"This is not about glorifying weapons," said Wolpe.
"There is no monetary value to a historical artefact. It is about who the gun belonged to. This is not just any gun," said Wolpe.
"My major concern is that if it is there, then there could be a battle as to who owns it."
In the meantime, High Street Auction Company is bracing for a full house as the auction nears.
"The interest has been very high due to the legacy of the pistol. We have had interest both locally and internationally and have had numerous high-profile individuals make queries," said spokesperson Tracy Purto. -- AFP