11 Jun 2011 12:07 - Staff Reporter
Madiba mourns his 'beloved sister' Albertina Sisulu
Nelson Mandela has praised anti-apartheid heroine Albertina Sisulu as "the mother of all our people", in a statement at her funeral.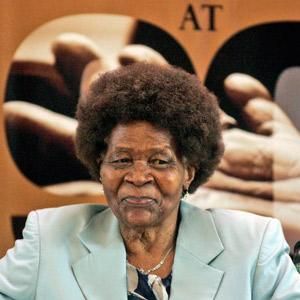 Nelson Mandela praised anti-apartheid heroine Albertina Sisulu as "the mother of all our people", in a statement at her funeral on Saturday in the historic Orlando Stadium in Soweto.
Sisulu, who died on June 2 at her Johannesburg home at the age of 92, was given an official funeral category one, reserved for distinguished persons and designated by the president, that drew top political leaders, luminaries of the anti-apartheid struggle, and about 3 000 ordinary South Africans.
Mandela, who is also 92 and increasingly frail, did not attend the service but sent a message read by his wife Graca Machel, calling Sisulu "one of the greatest South Africans".
Sisulu was married to Walter Sisulu, Mandela's political mentor who died in his wife's arms in 2003. South Africa's first black president recalled meeting his first wife Evelyn in the Sisulu's home.
Albertina Sisulu was one of Mandela's last surviving contemporaries, a fact he acknowledged with obvious grief in his statement.
"The years have taken the toll as one by one friends and comrades passed on. Every time it seems as part of oneself is being cut off," he said.
"None of those cuts could have been more painful that the loss of this dear friend, you, my beloved sister."
"You provided leadership and exercised power with quiet dignity. Through your selflessness and dedication, through your moral authority and sincere humanity, during and after the struggle you rightly earned to be the mother of all our people," Mandela said in the remarks.
Watching them grow
His statement was greeted with rapturous applause, singing and dancing in the crowd.
Government provided 500 buses and seven trains to ferry people to Orlando Stadium, a landmark that was often a focal point in the apartheid struggle but was later renovated into a modern 45 000-seat venue ahead of the football World Cup.
Sisulu will be buried later Saturday, next to her husband in the nearby Croesus Cemetery.
During her life, she was hounded by the apartheid authorities, repeatedly jailed, and "banned" -- a penalty that limited her movements and her visitors.
But she lived to experience the end of white-minority rule, serving one term in the new non-racial parliament herself and seeing her children rise to top positions in government.
Her daughter Lindiwe is defence minister, her son Max is the speaker of the National Assembly, and another daughter Beryl is ambassador to Norway.
Her special way
Sisulu was the centre of her children's lives, Max Sisulu said in his speech at her funeral.
"She was a dominant presence in our lives and it will be difficult to imagine life without her," he said during a tribute to his mother on behalf of his siblings at Orlando Stadium.
"We face the challenge of keeping the glue and strengthening the glue that bonds this family.
"Mama had a special way of making all of us feel special."
He said it was fitting to say goodbye to his mother in Orlando, Soweto as it was his parent's home for 60 years. Four generations of Sisulus had lived in Soweto.
Max paid tribute to his mother's dedication to the struggle against apartheid.
She was a mother, friend and political mentor to many, he said.
"The relationships she formed were as strong as the ties of blood ... Mama touched people far beyond family, friends and the ANC."
Max said Sisulu was a tireless freedom fighter and passionate. She would be hailed by women of South Africa for fighting for equality.
To Sisulu's grandchildren he said: "Gogo [grandmother] loved you — she looked after you in life and will continue to".
"We love you mama."
Sisulu's grandson Ginyi Sisulu, paid tribute to his grandmother on behalf of all the grandchildren.
He recalled memories the grandchildren had about Sisulu.
"She taught us to always behave in a dignified way—when she scolded us we were deeply hurt," he said trying to hold back tears.
"Thank you for the memories." -- AFP, Sapa