13 Feb 2015 00:00 - David O'Sullivan
Madiba: Dancing to the tune of freedom
The 25th anniversary of Nelson Mandela's release from prison evokes memories of the biggest party Soweto has ever seen.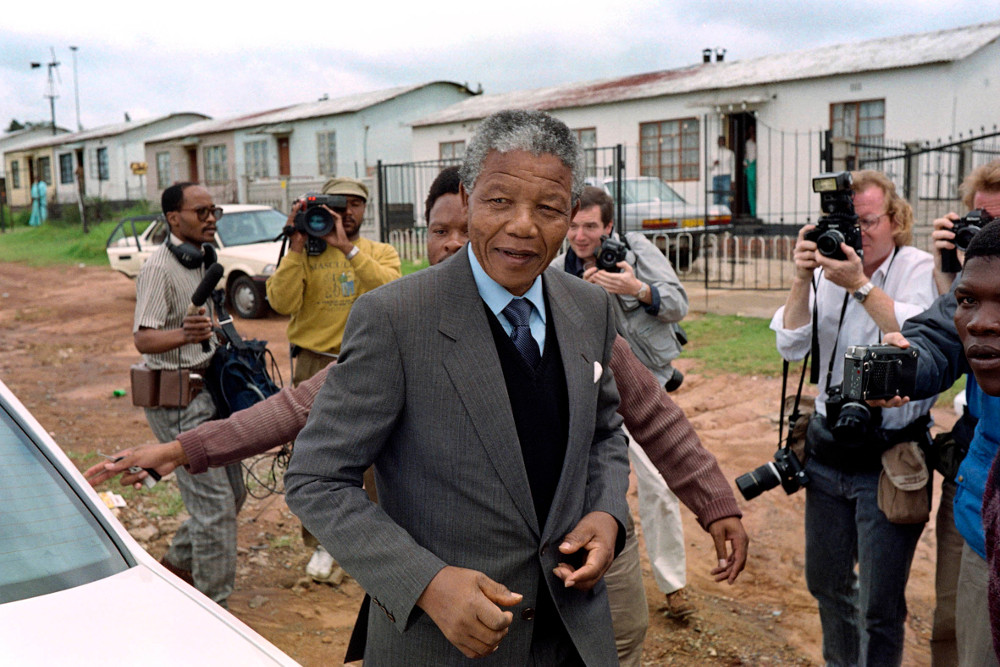 I was watching the coverage of the 25th anniversary of Nelson Mandela's release on TV on Wednesday afternoon, sweltering in the heatwave, and I remembered that on this day 25 years ago it poured with rain in Johannesburg. It was a Sunday and I was in Soweto outside Mandela's poky house on Vilakazi Street.
That was a crazy weekend. I was working at Capital Radio, where we had been anticipating Mandela's release ever since the unbanning of the ANC and other political parties on February 2 1990. So when FW de Klerk called a news conference on February 10 and announced Mandela would be released the next day, we were ready. Sort of.
Earlier that week, my colleague James Lorimer (now a Democratic Alliance spokesperson on mineral resources) and I went to Vilakazi Street to organise a phone line near the action that would inevitably take place outside the Mandela residence. Even though Madiba's wife at the time, Winnie Madikizela-Mandela, lived further down the road in a huge house nicknamed "Winnie's Folly", we'd been told that Mandela would go back to his little house.
Those were the days before cellphones and the big challenge for any radio journalist in the field was finding a phone to file a story. But we were used to it, and we used an old trick to locate a phone.
We just looked up and down the streets for telephone wires leading to a house. We found one about 30m from the Mandela residence on Ngakane Street (the Mandela home is on the corner of Vilakazi and Ngakane), knocked on the door and offered the homeowner some money to give us the use of the phone, and also not to allow any other journalist to use it. Journalism is a selfish business, you see. Cash changed hands, and our communication was secured.
When our trusty pagers beeped with the news that De Klerk was holding a news conference, we knew what that would be all about, but we didn't quite expect getting only one day's notice.
I remember Capital News reporter John Maytham racing off to Orlando West minutes after the announcement to cover the story that was rapidly unfolding there. As he sped past the Orlando Stadium, a traffic cop jumped into the road. He wanted to know why a white man was speeding in Soweto on a Saturday afternoon. John, the trained actor, triumphantly told him that Mandela was about to be released. In my mind, I always imagine John giving the cop the "I'm on a mission from God!" line à la the comedy The Blues Brothers.
The cop leapt back as if John had pulled a gun on him. "Go! Go!" he shouted, waving John off with the traffic fine book to emphasise the urgency.

Protestors raise their fists at a rally in Alexandra in 1990 shortly before Nelson Mandela's release after 27 years in jail. (Juda Ngwenya, Reuters)
Back in the newsroom, we were quickly putting plans into action. We were fortunate in having two former full-time employees, Paddi Clay (working for the Canadian Broadcasting Corporation) and Alison Campbell (working for Independent Radio News in London) in Cape Town to cover the story. Alison took up a position outside Victor Verster prison, and Paddi was in the Cape Town city centre.
Capital Radio made a rather unprecedented change to programming on the day of Mandela's release. News always had its prescribed slots – top-of-the-hour news bulletins, and an evening news show called Capital PM. But on Sunday February 11 1990, news joined forces with music and Lorimer co-hosted a one-off Freedom Special broadcast with Rick May.
I went to Vilakazi Street, and took up a position on the tiny stoep of the house with the phone. It was the scene of the best street party I've ever attended.
The roads outside the Mandela house were crammed with thousands of people, but also with satellite vans. Many of those vehicles had been flown in from Romania, the scene of the previous big international news story – the fall of Nicolae Ceausescu – before the Mandela release relegated it down the news priority list.
The long delay in waiting for Mandela to emerge from Victor Verster might have aged poor old Clarence Keyter as he blustered his way through the SABC television coverage, but I don't recall it being a problem for the crowds crammed into the streets around Orlando West. It was party time.
We put a TV on a rickety table on the stoep and very quickly the neighbour's garden was jammed with ­people as we started getting the news that Mandela's convoy was on the move. When we got our first glimpse of Mandela on TV, the crowd in the garden went berserk, which prompted everyone else in the road to go berserk. And that sparked the biggest and longest toyi-toyi ever.
As thousands upon thousands of people started toyi-toyiing through Orlando West, the skies opened up and it poured with rain. It was a torrential downpour – one of the grandest, loudest, most dramatic Highveld thunderstorms. And it did nothing to dampen the mood.
Brenda Fassie was in the crowd, and she decided it was now time to make a more public appearance. She clambered on to the roof of one of the satellite vans and started singing and dancing in typical Ma Brrr style. She had such damn charisma. No microphone, no PA system. Just Brenda and her voice on the top of a satellite van in the pouring rain, adding to the marvellous hysteria.
When her frenetic dancing on the wet, slippery satellite van roof caused her to take a dramatic tumble, no problem. She was hoisted back on to the roof, only to come plummeting down seconds later. But she was feeling no pain that day. No one was feeling any pain.
I can't remember what time I left Soweto that night. I do recall feeling like a bit of a party pooper, because that was a party that would last for many days. It was still raging when Mandela finally got home to Vilakazi Street three days later.
David O'Sullivan is a Johannesburg-based freelance journalist.