22 Jul 2016 00:00 - Rebecca Davis
Gugu Zulu may be no more but his dream, like Mandela's, endures
He came from a poor background, made it to the top and lived a full and happy life.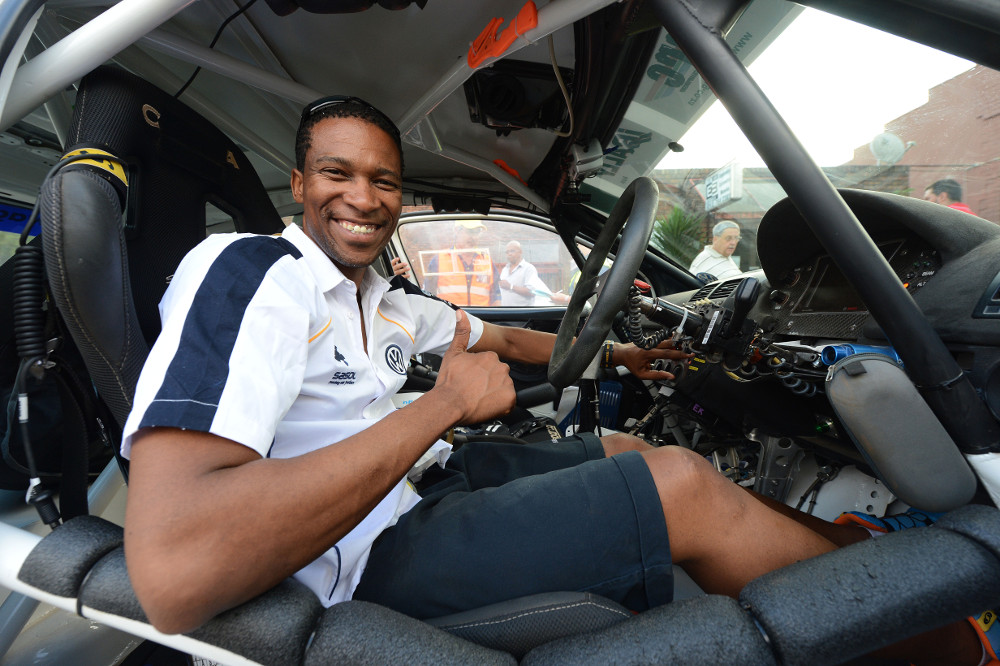 "Just taking a stroll in the garden high above a blanket of clouds." That was to be the last thing that race driver Gugu Zulu tweeted before his death on Mount Kilimanjaro this week. On Friday, his body was set to return to South Africa.
The fact that Zulu died while raising money for impoverished girls is completely in character for a man about whom nobody seems to have a bad word to say. His zest for life, his kind heart and even temperament left their mark on all who encountered him.
Even those who met him only in passing took to social media this week to pay tribute to "a gentleman to the very end", in the words of his wife, Letshego.
Zulu was a success story in a country that too often offers too few. His life had a fairy-tale quality. The Soweto lad would one day find himself competing internationally in the glamorous world of professional racing. He had a television show, a beautiful and accomplished wife, and a young daughter. Gugs, as he was affectionately known, could have been a poster child for the aspirations of the democratic South Africa.
He was 16 years old when Nelson Mandela took office as the country's first black president. Zulu's love for motorsport had started 10 years previously, but growing up poor in a township meant that a career in racing seemed absurdly out of reach.
"My friends used to laugh at me and say it would never happen," Zulu told an interviewer. When he confided in his mother that he hoped to be a driver, she assumed that he meant his aspiration was to be a taxi driver. He was viewed, he said, as "the biggest joke ever".
But the last laugh was to be Zulu's.
After leaving school, he enrolled at the Isondo Racing Academy, where he proved a natural. He later recalled that his father, Peter, would attend every single race. "Gugu was my only son and my hero," Peter Zulu told the Daily Sun after his death.
Zulu was to find a mentor in former driver Sarel van der Merwe. In a 2012 interview, Zulu recalled Van der Merwe's dry approach to his training. "You fucked that up," he observed when Zulu managed to strand his car on a sand heap. "Let's do it again and get it right."
There are few professional black racing drivers in South Africa, and Zulu struggled with sponsorship. At one stage, he hoped to compete in the French endurance racing event, Le Mans, but the R5-million it would have taken proved elusive.
He also spoke wistfully about his inability to capitalise on the opportunity to compete in the United States, where he said he felt like a "pregnant donkey" in comparison with the other drivers. Zulu passed a test to join a black American racing team, but a lack of sponsorship kept him in South Africa.
"What could have been had we had a backer?" he once mused. "Guess I will always wonder."
Zulu may have struggled with corporate backing, but his talent and innate charm opened doors for him beyond the world of competitive racing. Television producers loved him, and he was constantly in demand for interviews.
Although not the most effortless of TV presenters, Zulu was described as a dream to work with. "I can honestly say he was one of the nicest, calmest and friendliest gentlemen I have ever known," entertainment journalist Jason von Berg wrote of Zulu after his death. "Always so polite, always greeted, gave great interviews and glowed/gushed when he spoke about his beloved Letshego and their daughter."
In Letshego Moshoe, Zulu met his intrepid match. A biokineticist and self-described "adventure enthusiast", Moshoe was also the runner-up on the season of reality show Survivor filmed in the Maldives.
"When you have a partner that can carry you, you hang on to them," Moshoe posted last month on Twitter.
Their marriage in 2014 was stamped with the ultimate you've-made-it marker: coverage by lifestyle programme Top Billing. Footage of the wedding shows a couple in love.
That a professional sportsman could meet his end in such an unexpected way has added to the poignancy of the tale. Racing is gruelling; in addition to being in shape for it, Zulu was also a keen mountain biker and long-distance runner. His uncle described him as "fit as a fiddle".
About 35000 people attempt to reach Mount Kilimanjaro's summit each year. The numbers for deaths are unreliable. Some sources state that there are fewer than 10 fatalities annually, but other estimates speculate that the real figure could be as much as three times higher.
But for a man who made his living from a notoriously dangerous sport, Kilimanjaro must have seemed just like one more enjoyable challenge. It was to be a climb undertaken with his wife, with whom Zulu loved to share his active lifestyle. He had proposed to Letshego at the end of a mountain biking event lasting more than a week.
They called themselves the "adventure couple", which is why Zulu had brought along a banner with the word "Adventure" on it, planning to hoist it at the peak he would never reach.
He achieved Mandela's goal for his people: affluence, freedom and a happy, fulfilling life. He died on Mandela Day, the annual date chosen to commemorate Mandela's 67 years of service. Zulu was attempting to pay it forward for others. He and his wife had chosen to raise funds for underprivileged girls, he said, because the birth of their own daughter had made them acutely alive to the hardships suffered by the less fortunate.
In one of his final interviews, Zulu curiously seemed to speak about himself in the past tense. "I set a goal for myself and worked very hard to achieve it. I made sure that I lived my dream."
The fastest brother in Africa may be no more but his dream endures.